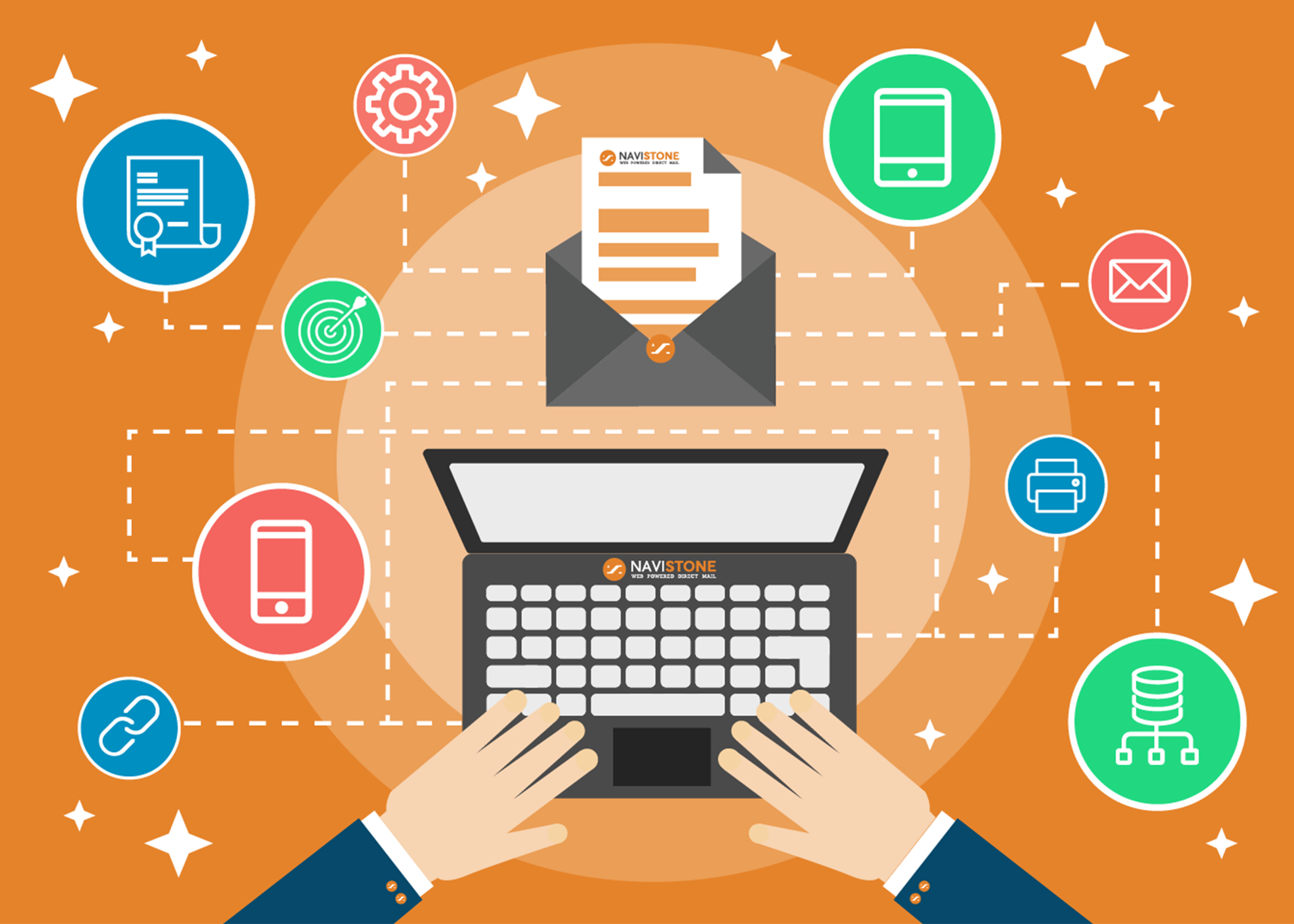 Get the scoop on what's new at NaviStone®

NaviStone Recognized as 2021 Best Tech Startup
NaviStone is thrilled to announce that we have made The Tech Tribune's 2021 Best Tech Startup list in Cincinnati! This list was compiled by the staff at Tech Tribune and several key factors were considered including revenue potential, leadership team, brand/product traction and competitive landscape. Congratulations to all of those who made the list. We are proud to be recognized for our hard work and the value we are providing to our clients. For more information on The 10 Best Tech Startups in Cincinnati, click here for more information.
NaviStone is honored to have been recognized as a 2018 and 2019 Best Employer in Ohio. In addition to this recognition, we have also been awarded the best in "Marketing Innovation" by the Cincinnati Business Courier for our innovation and technology in the field of marketing and "Ohio's Best Startup Culture Award" by TechOhio.
Follow us on Twitter and Instagram to see what our team is up to this fall! @Navi_Stone
---

What's Your Covid Resolution
What a roller coaster the last six months have been…from a social perspective and business perspective to personal adjustments, diet and new hobbies…ALL of these things! In an effort to look ahead with optimism and look backwards with gratitude, we asked our NaviStone team…"What is one personal and professional thing you will do after a Coronavirus vaccine is introduced that you wouldn't have done before?"
Check out how their answers stacked up below! So…what's YOUR Covid Resolution? Tweet us your answer @Navi_Stone by using #SpreadHappiness.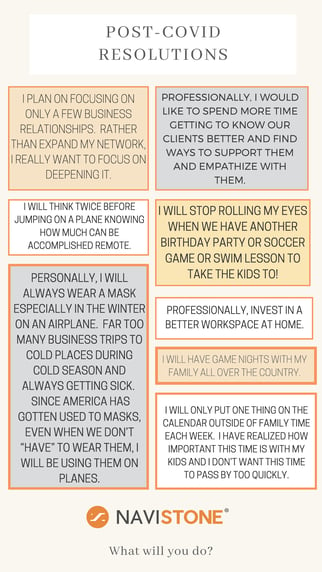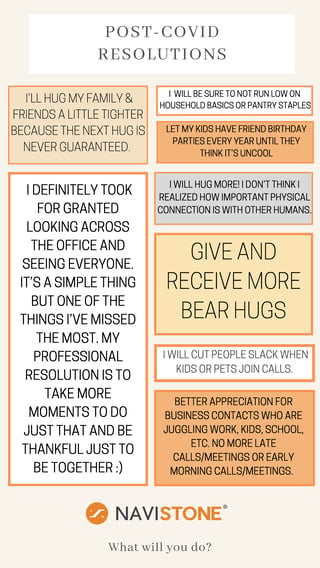 ---


Level Up with NaviStone this Holiday Season
With so many people shopping online this holiday season, now is the time to go deeper into your website audience and reach them at home. NaviStone is excited to announce a powerful new product enhancement…Level Up.
Level Up combines browsing signals with demographic and psychographic data for deeper insights into your lower segments that may not typically perform well. This boost of data further expands your viable audience adding more precision to your offline retargeting.
Talk to your NaviStone Client Partner today for more information and sample results.
---

Quarterly Casual Corner
This piece is contributed by Jill Harrigan, Director of Business Development at NaviStone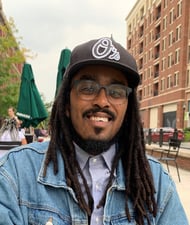 Hello and welcome to NaviStone's Casual Corner, where we take you behind the scenes by chatting with our very own team members. Today, we're excited to introduce you to Jordan Ford, our amazing Campaign Manager. Jordan's role is a nice mix of creative and technical work, including production design and ethical data management. Born and raised in Maryland, he moved to Cincinnati last year to join the team.
How'd you hear about NaviStone / what made you decide to apply?
I found NaviStone through my fellowship program Venture for America. What interested me about them was their seamless use of new technology for direct marketing which is often seen as old school.
What's your favorite part of your workday and why?
I would say my favorite part would be working on creative, because I always enjoy using my knowledge in adobe creative cloud to solve issues and save time.
When you were a kid, what did you want to be when you grew up?
I would probably say an Astronaut or some type of politician.
If you could give your 18-year old self some advice, what would it be?
Take advantage of study abroad and live in Copenhagen for a semester in College.
Let's talk about your favorite things:
Music: I enjoy a variety of music ranging from Hip-Hop to Bachata. I often listen to more emerging artists on SoundCloud rather than the mainstream top 50 hits.
Movie: I often watch international films from France, Spain, and Germany.
Food: My favorite food is probably salads from Chopt or Bacon Egg and Cheese sandwich.
Drink: My go to drinks are La Croix, Kombucha, and Ginger Ale.
Hobby: I would just say "side projects." I usually have too many that take up my whole weekend.
What's your latest project?
I'm helping a friend supply and sell furniture for his landscape company, and I'm working on app in a hackathon with Venture for America.
What's your favorite NaviStone core value and why?
If it doesn't exist, invent it. I'm really into innovation coupled with research and development. An organization like NaviStone took something traditional and re-invented it and I see that type of vision as something that is always needed in business and life.
In your current role, which brand (or organization) would you be absolutely stoked to work with & why?
I would probably say Asos, I like fashion and the style that they have, so it would be really full circle to see that.
---

Join Our Marketing Therapy Thursday:
Curing the Covid Hangover
This season typically represents a time of year where we as marketers are attending industry events and conferences, learning of new marketing opportunities, sharing ideas and brainstorming with peers. In the absence of those events, NaviStone would like to help!
Please join us on October 22nd for our next Marketing Therapy Thursday where we will be discussing, "Curing the Covid Hangover".

This is a forum where marketers can come together to…
Share the challenges and opportunities in today's marketing and business landscape

Learn from other marketers on how to navigate some of the biggest issues of 2020

All of this, in a confidential, no-sell environment
As noted by past attendees:
"I really enjoyed it. It was relaxed and productive."
"I found it enjoyable and it was great to hear what the other participants were doing."
To register for our small group discussion, click here.