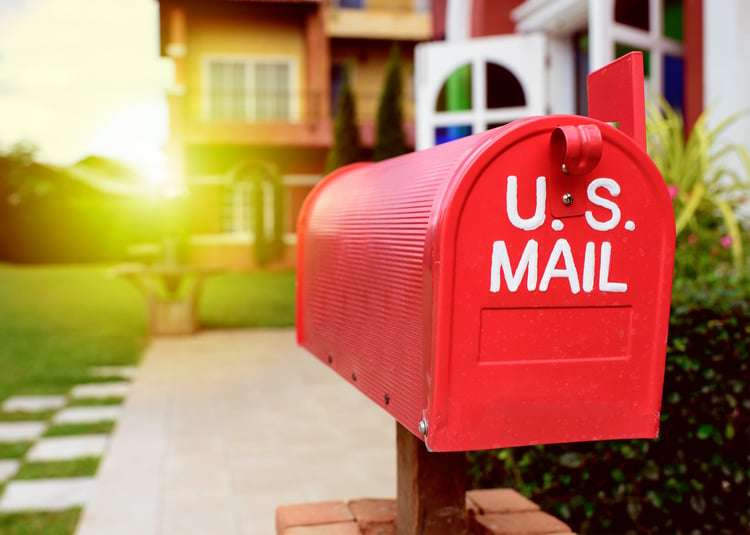 Considering direct mail for your next campaign can help you create brand awareness, gain customers, and improve your bottom line. Check out these direct mail stats to help you understand the opportunities direct mail marketing offers.
Direct Mail Statistics
Digital marketing campaigns can be effective with today's technology, but statistics prove direct mail usage can increase your response rate and conversions. Direct mail statistics show that the average household keeps physical mail for much longer than emails. Marketing campaigns that utilize personalized direct mail advertising can help your brand reach potential customers more successfully.
Receiving mail is a highlight of many people's days. Between exclusive deals and personalized mail, website visitors convert to direct mail customers every day. Businesses can target prospective customers who recently visited their website with direct mail to influence purchasing decisions and increase online interactions.
Considering direct mail for your next campaign can help you create brand awareness, gain customers, and improve your bottom line. Check out these direct mail stats to help you understand the opportunities direct mail marketing offers.
Direct Mail Statistics: How to Break Through with Your Marketing Message
Without a powerful message or a memorable advertisement, brands struggle to succeed. You can create memorable campaigns through a direct mail marketing strategy. Direct mail recipients pay more attention to the average direct mail versus digital ads.
In fact, direct mail open rates can reach up to 90%, while email recipients reduce that number to approximately 25%. According to the United States Postal Service, millennials are the primary target audience to receive direct mail.
Is direct mail dead? No. Today, the mail American households receive primarily consists of direct mail campaign pieces and 80% of the younger target audience notices direct mail. In a world of digital, the mailbox stands apart.
Implement Effective Pieces of Mail
Your message should be attractive to prospective and current customers. Over 20% less cognitive effort is necessary to process direct mail than emails. Catalogs are also an effective way to entice customers and display your offerings while catering to all audiences.
According to the Canada Post, direct mail like catalogs improve brand recall significantly, and 73% of people enjoy the easy accessibility of a physical advertisement compared to digital marketing channels. Catalog recipients also have an easy way to find your website.
While letter-sized envelopes bring a response rate of 3.5%, catalogs and flyers sit at around 4%.
Flyers, postcards, and coupon pages are among the tried-and-true direct marketing campaign tactics. Direct mail works to connect your brand with customers and influence purchases. The Shopping Shift states that direct mail influences more than 80% of sales, from clothes to food.
The more personal nature of individualized postcards and limited time offers creates a higher response rate. Statistics from the Data & Marketing Association note that merchants increased their catalog marketing in 2020 considering its extreme effectiveness in gaining conversions.
Take Advantage of Longstanding Success
Direct mail is especially prevalent across the U.S., with most households receiving up to 454 pieces of mail a year. With its proven track record, brands have a tremendous opportunity to utilize direct mail. Considering its long-standing and consistent success, direct mail is not going anywhere.
Brands can take advantage of this direct mail channel by sending regular direct mail advertisements to households in your area. Implementing the most impactful campaign tactics will drive meaningful results.
Direct Mail Statistics: How to Make an Impact
Impactful direct mail will lead to better conversions. Among consumers, 70% enjoy the personal aspect of direct mail marketing, while another direct mail statistic states that most residents keep advertising mail for around 17 days. Knowing this, your business can influence buying decisions for entire households for weeks at a time.
According to the USPS, direct mail recipients purchase significantly more than those who do not receive mail advertisements. A 28% conversion rate proves this strategy's success.
Eye-catching strategies will make the most impact. Whether that is using vivid colors, personalizing each advertisement for the recipient, or utilizing large direct mail pieces, there are many options with direct mail which can maintain your company's visibility.
Send Unique Physical Mail
It is easy for people to ignore emails, but a physical piece of mail takes up space. Having that reminder can make a big difference, especially when combined with discount codes or special offers.
For more tips on How to Build Effective Direct Mail campaigns, check out this article here.
Personalization
Today's printing technology has made personalization and customization a breeze, giving you the chance to reach your targets at an individualized level. The average shopper expects to be treated as an individual at every touchpoint they have with your company — whether it is a catalog, postcard, email, or social connection. You can tailor a message based on what the customer previously bought, or what type of list they came from, giving you a customized approach.
Direct Mail Statistics: How to Increase Your Response Rates
Better direct mail response rates lead to higher conversions. The average response rate for direct mail marketing differs between demographics, but the direct mail spend is increasing as businesses bring in more sales.
The local advertising spend consists of $38 billion, while the average advertiser spends around $167 to acquire a single customer via direct mail marketing. Acquiring customers through direct mail cost around $45 per customer in 2018 and made up more than half of the national marketing budget. Knowing this, you can increase your response rates while employing money-saving tactics.
According to the Data & Marketing Association, direct mail campaigns garner five to nine times the response rates of digital campaigns. People between ages 45 and 54 are the most likely to respond to direct campaigns, with their direct mail response rate sitting around 14%. These statistics blow online campaigns' response rates out of the water, even with younger generations.
Emphasize Unique Selling Points
Brands looking to increase their direct mail response rate should focus on selling their offerings' benefits versus the actual product or service. With so many of the same offerings available, the key points of your business's offerings must stand out from the rest to gain traction.
Customers want to know why something is worth their money. Compelling selling points like added convenience, additional savings, and problem-solving capabilities are common for marketers to leverage in the customer acquisition process. Focusing on these aspects can quickly convert customers, especially with targeted mailings.
Create Targeted Mailings
Targeted mailings have significantly better response rates than non-targeted campaigns. Companies target audiences based on their website browsing behavior, geographical location, age, interests, and other demographics. Considering 42% of recipients at least skim over their direct mail compared to 22% for emails, creating targeted mailings will give you excellent results.
Sending mail to targeted audiences can increase response and reiterates the bottom line that direct mail still works. For example, 60% of catalog recipients visit a business's website after receipt. Someone interested in skiing is more likely to visit the website after receiving a direct mail catalog from a skiing equipment company.
According to 2018 statistics, house file lists brought a 9% response rate while prospect lists also had an increased response. These increases are thanks to innovative tools, such as direct mail retargeting, for creating targeted mailing lists. Automated programs monitor website traffic and compile a response rate report, using the information to form targeted marketing lists.
Combine Multiple Channels
A combination of direct mail and email marketing is a fast way to get a response after peaking people's interest. This marketing mix is effective for influencing a purchase decision. Incorporating direct and digital channels also produces outstanding results by improving brand associations and visibility.
Direct Mail Statistics: How Can Direct Mail Retargeting Strengthen Integrated Multi-Channel Campaigns?
Understanding Omnichannel Direct Mail Campaigns
An omnichannel marketing strategy spans multiple channels. Between digital marketing, direct mail, and print advertising, speeding up purchase decisions requires an automated solution. Direct mail retargeting creates a higher return on investment than online display or paid search.
Improving Multi-Channel Campaign Effectiveness
Pairing your digital marketing strategy with direct mail retargeting can immediately improve your ROI and response rate compared to a single-channel strategy. Omnichannel marketing campaigns increase conversion rates by 40%. Brands also receive up to 68% more website traffic.
While email or paid search campaigns can prove useful, marketing programs are more intensive. Marketing programs locate prospective customer addresses and rate website visitors on their likelihood to convert.
Automated Processes
Advertisers spend significant time creating campaigns, materials, and ensuring mail's arrival. Direct mail retargeting allows marketers to focus on the parts of their campaign that are less automated.
Using direct mail retargeting provides a more automated technology that allows a company to improve all aspects of digital and direct marketing campaigns without taking away from other aspects of your business. You have all the necessary information at your fingertips. Whether you need to implement new strategies or create new direct mail offers, the information an automated program provides is invaluable.