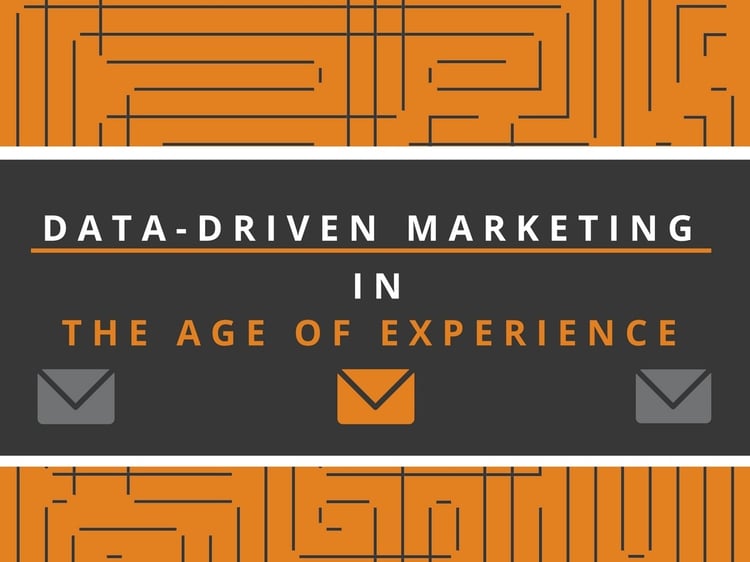 Perhaps the best part about the Information Age was the virtually limitless stream of data available to marketers. Everything your company did from a marketing perspective — and how consumers responded to this activity — left a trail of vital information that could be used to inform your next marketing campaign. And this truly fueled data-driven marketing tactics. Marketers could provide relevant digital ads to consumers whenever and wherever they were online.
As we move out of the Information Age and into the Age of Experience, it's important to understand how to turn the massive amounts of data you can collect into actionable insights that enhance the customer experience at all touchpoints. The best part of placing the emphasis in marketing on the customer experience is that the data collected — from CRMs, website traffic, social and many other sources — can be used to meet the customer where they are on their path to purchase. Data-driven marketing doesn't have to exist solely in a digital space. Using this data to guide all of your direct marketing efforts can help you to develop a two-pronged approach that will enable you to reach your ideal customers with the right message at the right time.
Data-Driven Marketing for Your Ideal Audience
The abundance of data available to marketers is both a blessing and a curse. Using the resources available, marketers can create comprehensive, detailed and personalized materials designed to pique the interest of their target audience. However, having too much data also means it can be quite difficult for some companies to know exactly what data should be used when planning marketing strategies and tactics. With so much data to evaluate, and endless possibilities, marketers may be unable to truly process the data they've collected. They can't see the forest for the trees, so to say.
The sensible way to approach the implementation of data-driven marketing is to take the data that's useful and apply it to the audience who is most ready to move forward in their path to purchase. In other words, use your data to identify consumers who are interested and ready for your marketing, then use that same data to personalize your approach where necessary. On the flip side, if you have a marketing message ready to go, you can use your data to find the right audience who will respond to that message. If certain data doesn't help identify an interested audience or help in personalizing the marketing message, don't use it. The data you use should enhance the customer experience at every stage of their journey.
What Is Actionable Data?
The real trick, though, is to figure out exactly where your consumers are on that journey and meet them at their particular point on the path. Someone who visits your site once probably isn't ready for a direct mail piece. Instead, an email or digital ad may be a better approach. This will set up those individuals to become more educated about your product or service, how it can help make their life easier or simply build brand recognition and exposure. From there, those who are interested will continue to read your emails or will take further action on your website. You can easily identify these motivated consumers by the actions they take with your company — through their website visits, social interactions or email clicks.
Website Activity
The most direct way to identify an interested shopper is based on their browsing activity on your website. Someone who comes back to a product page more than once, or moves directly from a given product page to your customer support page, can be indicative of consumer interest. If these potential customers are people who have made purchases in the past or have signed up for your email list, you can easily link those individuals with their contact information, allowing you to create a personalized marketing message. With advances in technology, it's also possible to match unidentified website visitors to their physical mailing addresses, which gives you the advantage of sending interested prospects a high-response media like direct mail.
Social Media
Social media does a lot more for a company than simply facilitating added exposure. It gives companies the chance to learn more about the people who follow them. People who follow your social media accounts clearly want to hear what you have to say, and anyone who shares information about your brand has a strong desire to be associated with your company. Take note of the social media users who engage with your brand — these are ideal targets for personalized, high impact marketing pieces.
Email Lists
The email list is a staple of marketing because it allows the company to have a one-on-one conversation with an interested consumer. Because only motivated customers sign up for an email list, the company can market to these leads with confidence, knowing the recipient has a vested interest in reading the company's content. An up-to-date email list is a great resource in identifying people who are likely to move down the sales funnel. But there can still be value found in customers who have opted out of email subscriptions. These consumers may make good candidates for a direct mail piece with a personal message.
Combining Data-Driven Marketing and Direct Marketing
Direct mail has a ten times higher response rate for prospects than paid search, social media and email marketing — and once you've converted a customer, the success rate of direct mail jumps from 1 percent to 3.7 percent. Furthermore, direct mail gives the recipient something different, something that stands above the clutter they may receive in their email inbox every day. A direct mail piece is tangible and persuasive, and it makes a major impression on someone who's seriously considering buying from your company.
Sending direct mail to a motivated prospect doesn't mean taking the entire conversation offline. You can combine a direct mail piece with personalized content and a promo code that can be redeemed online. It's important to meet the customer where they are on the path to purchase. But direct mail plays an important role in nurturing and converting your audience.
Data-Driven Marketing Automation
One of the true benefits of using data to dictate your marketing tactics is that many of your recruitment-based marketing functions can be automated. While it takes careful planning and specific direction on your part, you can make your initial marketing follow-ups as simple as tracking activity and executing a planned response.
It's true that a lot has to go right in order to successfully deliver personalized automated messages, both digitally and through direct mail. However, there are tremendous benefits in store if you can do so. Automatically detecting a prospect who has shown interest, either through spending an extended amount of time on a product page or abandoning an item in an online shopping cart, and encouraging that individual with a personalized postcard sent within days of their website activity, can be the catalyst they need to purchase.
The key lies in understanding what attributes help define your ideal customers and what actions indicate their readiness to buy. The more you know about how customers respond to your marketing efforts, the better equipped you'll be to automate these important facets of your marketing campaign. The infrastructure to execute this automation is available. It just takes a high level of understanding of what makes your customers tick. Thanks to the data you've collected about your audience, you should be ready to make the move towards automation.
Is Your Strategy Transforming?
Data-driven marketing is transforming in the Age of Experience because it's no longer enough to use data to create great digital marketing campaigns. Instead customers are demanding a seamless brand experience that crosses channels. Getting the right media mix — whether it includes direct mail, paid search, TV, social advertising or more — is all about creating a cohesive marketing strategy that will reach your audience where they are and at the right moment. Have you started to transform your strategy to keep up?