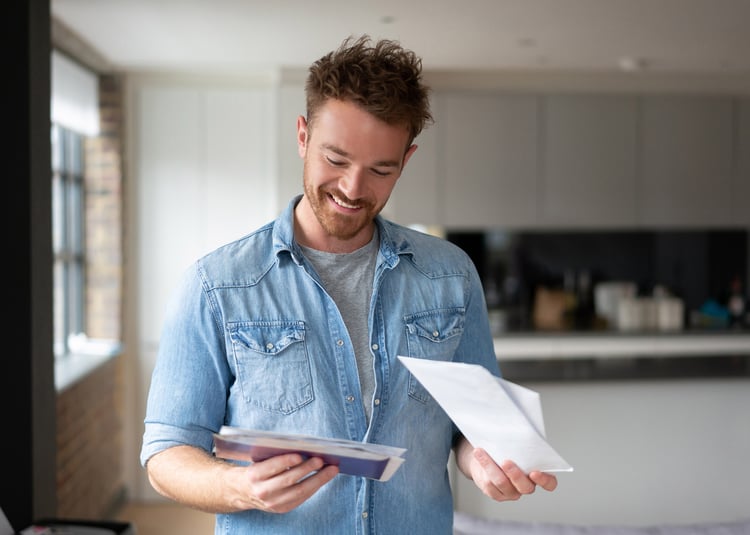 Direct Mail has been revolutionized through the use of data and technology in the last decade. Check out these top 7 creative direct mail campaigns that are shaking up the mailbox.
7 Creative Direct Mail Campaign Ideas to Inspire your Marketing Efforts
These days, traditional direct mail marketing campaigns have evolved and improved and are replacing old campaign design methods. Traditional design of direct mail is often seen as antiquated, especially in the digital age. Markets are crowded and the internet is flourishing in aspiring content. Creativity with direct mail is needed.
Invigorate your business with new and creative direct mail marketing campaigns to introduce yourself to potential customers. Targeting your customers through unique and personal direct mail methods can help improve brand awareness, resulting in increased customer retention. Here are 7 creative direct mail campaign ideas to inspire your campaign efforts and increase customer engagement.
Design and Encourage Group Effort
To encourage companies, large businesses, and even families to use your product or service, design a direct mail campaign that can bring your targeted customers together. Earth Hour encouraged targeted customers to save energy by turning off their lights during this hour. In order to promote this event, Earth Hour created a campaign design placing yellow candles in boxes and sending to CEOs of electrical energy businesses. The creativity comes from the front of the box, which was designed to look like the front of a building. When the customer pulled the yellow candle out of the box, it looked as though the building was turning all of its lights off.
The companies that supported the "lights out" event led a 260% increase in saved energy. This direct campaign awareness design brought communities together, and made them much more aware of the businesses objective. Design a creative direct mail campaign that uses your business in a clever way to promote the value of your product / service.
Offer a Free Sample of the Product
Sending target customers a free sample of your product is a great way to create and increase brand awareness. Consumers enjoy the surprise in finding a small token of gratitude disguised as regular mail. In fact, Nestle did this exact direct mail campaign with their Kit Kat Chunky bar.
Nestle sent a piece of mail that read, "We're sorry we couldn't deliver your parcel" card to the doors of their targeted customers. The reason? "It was too chunky to fit through the letterbox." They encourage people to receive their free candy bar from a local newsagent's shop. Straightforward, eye-catching pieces of mail gave Nestle a surge in Kit Kat purchases.
When creating your own mail campaign, design a sample that treats your targeted customers individually for a personal touch. Design mailing samples that encourage customer feedback. After receiving this little "surprise", consumers may be more inclined to post their findings on social media, further spreading awareness.
Twist Your Product to Fit a Theme
Consider developing a mail campaign that supports an approaching holiday. And, add a little twist to the product to provide a fun experience for your targeted customers.
We all love fortune cookies, right? It's both a ritual at the end of the meal and entertainment.
Hell Pizza created a box of "Mis-fortune Cookies," a unique way of entertaining their customers outside of a normal context. In this box of cookies, customers could find fortunes that read, "Help! I am being held in a Chinese bakery!" instead of messages of good fortune. Each one of the cookies had their own unique mis-fortune. Twisting a fun piece of your product to appear abnormal during your marketing campaign can increase brand awareness.
Make Your Mail Unusual
Take the time to design your mail around your brand in a unique way. By thinking outside the box, you may find that your mail can relay your product's intent better through mail that looks unusual in the mailbox. This can be done in a variety of ways such as a fold-out letter, cut-outs that pop when the letter is opened, or making your mail look nothing like a typical letter.
A real world example comes from Papa Johns, who send physical paper versions of their pizzas to their customers. On each slice was a coupon for pizza deals that could be used to order food. Taking advantage of unusual mail design may grab the attention of your target audience far quicker than other direct mail campaign methods.
Design an Experience for Customers
Griffiths, Gibson, and Ramsay Productions, a Vancouver based recording studio, created a marketing campaign where people were sent a working cardboard record player. Those who received the cardboard simply had to set up the record player and spin their own records. Consider adding a fun experience that can be built from your product in your next direct marketing campaign. The creation and application aspects in a direct marketing mail campaign can build positive brand reputation.
Mimic the Product in the Mail Piece
If you sell a small product, consider delivering direct mail in a tiny envelope. Instead of sending oversized, large letters to sell cars, Smart Car did the complete opposite. Targeted customers found tiny letters in the mail, which showed them how the compact build of the Smart Car was an embodiment of the product. With these creative marketing ideas, your business can stand out with a letter that represents the embodiment of your product or service.
Add a Personalized Message
The marketing idea of adding personalization in your direct mail campaign shows the customer that you are aware of how they utilize your product or service. HelloFresh sends personalized messages to every customer as a token of thanks for trusting their service. Mailing a personal thank-you message makes customers feel special. Find ways to personalize your messages to every target customer. That way each one of your targeted direct mail campaign customers will feel special.
Whether your goal as a marketer is to generate brand awareness or increase your ROI, direct mail marketing is a valuable way to achieve both of these goals. Not only does it drive a high response rate, but it allows your company to stand out in today's digital world.
Organizing Your Direct Mail Campaign Ideas
Before you begin
It's critical to understand what the purpose of the campaign is. First, identify if your campaign is meant to raise brand awareness or generate high-quality leads. Are you looking to acquire new customers, winback customers that haven't purchased in some time or retain your loyal customers?
Define your goals
When defining your direct mail campaign goals, you must ensure they are SMART, Specific, Measurable, Achievable, Relevant and Time-Bound.
For example, if you are launching your direct mail campaign with the purpose of acquiring new customers, you will likely focus on reducing your CAC, or Cost to Acquire a Customer. If you are running a direct mail campaign with the purpose of retaining customers, you will likely focus on the Response Rate or ROAS (Return on Ad Spend) of the campaign.
Target your audience
While there are many contributing factors to maximizing the performance of your direct mail marketing campaigns, if you are not delivering your message to the right audience, you don't stand a chance.
Audiences can be created using third party data. And, as you add filters, you will eventually hone in on the right one. You can also create look-a-like audiences using your first party data. Create an audience that mirrors the characteristics of your customers.
Or you can take that even one step further and use your first party data. Who better to market to than the consumers that have visited your website and shown you their intent.
Focus on the offer
An offer can play a significant role in the performance of a direct mail marketing campaign. An offer is that thing you give the customer in exchange for completing a call to action. Keep these three things in mind as you think through your promotional offer strategies.
First, understand your audience. Have they come to expect free shipping? Maybe they are more cost conscious and motivated by a discount?
Second, understand what you are trying to accomplish through the offer. Are you trying to attract new customers, increase the order amount or drive customer loyalty?
And third, maintain consistency across channels.
Develop your content, then your creative
Good content should always start with intent data. Understanding consumer intent and motivation is critical to connecting with your customers. These two assets will push your brand further with brand loyal advocates.
You've selected your target audience using first party intent data. Now what?
The word creative encompasses a lot, but simply put, it is the visual representation of your brand. Ask yourself these questions:
First: What is the purpose of the marketing? This could dictate the creative and format. Informative direct mail pieces are likely heavy in text, in a format that allows room for that education. Persuasive direct mail pieces will typically have less text and appeal to reason, character or emotion. Reminder direct mail pieces are at the core of retargeting, providing a gentle nudge to drive the conversion and foster loyalty.
What do you want consumers to think when they think of your brand? What feelings do you want to evoke? Is your brand likeable, relatable, even Human?
And, last, are you using personalization to create meaningful connections with consumers? The best way to drive engagement is to use your creative to speak to consumers on a personal level.
Direct mail marketing allows you to support the purpose, evoke feelings and make that connection, and ultimately drive engagement and conversions.
Tackle the campaign logistics
From your creative to address data to printing, moving your direct mail campaign requires logistics. Be sure you have a good project plan in place including timelines, ownership and partner buy-in. There are a lot of moving parts to consider with a targeted and creative direct mail campaign. Project management is key.
Test, measure, and continually improve
Testing is an essential part of marketing. Be sure to do your research, thoroughly evaluate new programs, and measure for effectiveness. Give your new programs enough time to run in order to ensure you have enough data to accurately conclude if the test should continue, require tweaks or come to a stop.
Although developing a direct mail campaign can be time-consuming, the opportunity to spread awareness can be effective when the campaign design is creative. You are more likely to stand out by using a physical outreach compared to digital outreach found with online advertising. During your next direct mail marketing campaign, use these creative marketing ideas to increase your brand awareness. Utilize new direct mail ideas in your campaigns to keep customers curious and informed about your future products and services. Get creative with these direct mailing techniques today!