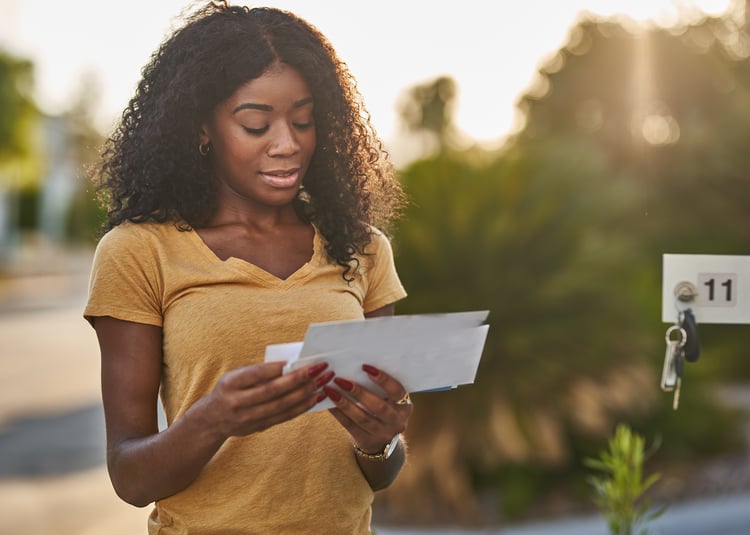 In this episode of Who's Mailing What, Paul Bobnak, Direct Mail Evangelist, chatted with Angie Arnspiger, VP, Business Development of NaviStone. Listen in and get the scoop on how the high-performing channel of direct mail is driving conversions for marketers with offline retargeting.
Meet the Mailers: Data-Driven Direct Mail, Interview by Who's Mailing What
In this episode of Who's Mailing What, Paul Bobnak, Direct Mail Evangelist, chatted with Angie Arnspiger, VP, Business Development of NaviStone.
Angie talks about her extensive background in the direct marketing agencies and print, using it as a springboard to discuss her company's work in "the high-performing channel of direct mail" as she put it.
Arnspiger said that mail — unlike online ads — keeps your brand safe because you control where your audience sees it. You have this opportunity to really know exactly who your target is, how you're targeting them and it's going to be a tangible piece in the mail that they're going to see.
But much of the conversation centered on direct mail retargeting and how it works.
Check out the interview below and view the interview here.
Paul: Direct mail is the original data-driven form of marketing— what do you think marketers need to do better with data and why?
Angie: There's a lot of different philosophies on, but at the end of the day, if you don't have the right data — it's sad, you need the right data, you need the right target. You need to be making sure that your advertising dollars are going to the people that it makes sense for them to get your piece.
The negative side of it though, I think there was a time where we said, oh my gosh, bring in all this data. And then it got paralyzing. There's too much data. So we don't know how to absorb it. We don't know how to model it. We try. And I think there's people who are really very good at it, but it got overwhelming.
And so now, today I think that there's two components. One, I think you have to have AI inserted within your CRM to help get through all of that data set. I also believe that there is a great way or a necessary means to leverage more of your first-party data. You know, third-party cookies are going away by 2023.
Third-party cookies are a great way to stay in front of your unknown browsers as an example, because they're crossing, you know, tracking people across sites, but there's kind of this low-hanging fruit of first-party data that I think brands could do a better job … leveraging and targeting it.
I also do say that second and third party data does come into play for sure. But I do think first party data is where the priority should be right now.
Paul: Let's talk about retargeting … why would companies want to take a look at that as a way of engaging with their customers or prospects?
Angie: Today brands are spending north of $250 billion a year to drive site traffic, right? They've got all these ads out there. They're getting people to their site and on a really, really good day, maybe 5% convert … that leaves this audience of 95% of people who spent time coming to the site, leading digital clues of intent throughout the site. But then for whatever reason, they abandon [site] and you don't know who they are.
So what direct mail retargeting can do is it can take those people that have spent a few minutes on the site, that have browsed different categories, that have done different activities, and match them 65-70% of the time to a postal name and address, once understand who of those unknown browsers can be matched.
So remember, these are unknown browsers. There's no other way to get in front of them other than digital retargeting, which are those ads that follow you around the web …
And so, this retargeting allows you to, one, not only understand, exactly at a PII level, a name and address who is on your site, but then, two, understand what the browsing behavior was. Are they a looky-loo? They'll never buy, our models can tell you that. Or are they somebody who's very serious about buying, they're just doing other research or whatnot, and maybe a direct mail piece is going to take them over the edge and have them come back and convert. And so that's what direct mail retargeting is. We can take those unknown browsers. We score them, we identify an audience step and we mail them out.
Right now we're mailing out First Class mail the next business day. And it's a postcard. But you can do any kind of format. You want to leverage recency and you don't want to let those names get stale, but get the piece out, get it out right away. And then because our process starts with a first party cookie, we don't expect an impact to these changes that we spoke about earlier, that come into how our reach is, I think our reach is going to be pretty consistent because we're starting with a first party cookie.
Paul: Is there a good degree of personalization that's involved as well?
Angie: We are able to personalize of course its name and address, but also by category, make it relevant direct mail. You want this piece to talk to whoever it is on the other side, in a way that they want to be talked to.
So as much information as you know about them, what their category interests are, if they've ever bought from you before, maybe they were a lapsed buyer from five years ago, you probably want to talk to them differently than brand new-to-file prospects. And so those kinds of things absolutely should be personalized.
We at NaviStone actually do print on demand. So we're able to worry about inventory levels and printing shells and then imprinting name and address. This is all printed on demand and that's how we're able to do the turn and the personalization. But yes, personalization is key. We can even get down to unique promo codes, if you want to do something like that.
On the front of the piece, we can talk to the person by putting in their name to make it a little bit more personalized on a message front.
Paul: How can retailers — especially brick-and-mortar ones — use mail more effectively?
Angie: Pre COVID, let's say, I know that the brick-and-mortar was really heavily focused on an experience …I think with COVID, obviously accelerated the e-commerce and the way in which brick-and-mortar companies are online. So now instead of Amazon, I'll go to the Macy's dot com site because they've done a great job.
And changing that up and making it easy from a direct mail standpoint … making sure that your direct mail piece is personalized with the local store …If it's a drive time or just a radius around each store, it should be highlighted. It should say: "Your closest Macy's store is at this mall. Here are the hours. Here's a little map" so people know exactly where they need to go.
And then I think having promotions and offers on the card that they can redeem in-store is another great one that, um, you know, I see those all the time while my point of view is make an offer that is accessible either online or in store and by the way, make it expire at the same time too … But from a brand perspective, I think you can maybe have some promotions to have redeemed in store to help drive that store traffic.
So that you do have a comprehensive matchback or view of what the direct mail piece has done for you, whether it's in store or online. So we have added that component into all of our reporting to make sure that that accessibility is there.
Paul: Are there any trends or thoughts about what's coming in the next year?
Angie: I just came back from my first in-person conference a couple of weeks ago, and … there was a lot of discussion about leveraging direct mail and specifically QR codes to help capture first-party data and party data. Right? So the thought being is that QR codes have come a long way since their beginnings … nowadays everybody's using it. If you want to go eat, you've got to scan the QR code for the menu. So every phone has the capability now. And I think what we see is that people are willing to scan those.
And then they're willing to give you these. So you have first party data as a result of that. So send out the mail pieces, leverage QR codes, to make it easy, to get back to site or a form or wherever you want it to be and your consumers or prospects are going to complete that for you because they want relevant advertising from you or relevant messaging from you in the future.
Paul: What is the best value proposition for direct mail … why does it still work so well today?
Angie: Consumers are overwhelmed with all the display ads being put in front of them multiple times over and over and over again. Sometimes multiple times on one screen, even. I think that's part of it. I think email is the same. We're seeing a high rate of people unsubscribing, and I think it's because they're getting a hundred emails a day and it's not necessarily that they want to unsubscribe from the brand.
They want to unsubscribe from those channels' emails because their inbox is getting full. And so I … expect that people are going to see that direct mail is a great way to get outside all that.
Well, you still need some of that for nurturing. It is a great way to get outside that clutter and talk to your consumer, your prospects in a way that they want to be talked to in a relevant, very respectful, tangible, personalized manner …I think there's a big opportunity here to not only grow new to file, to grow your files, but also for reactivation and leveraging direct mail.
Thanks again to Angie for an interesting and informative chat! To learn more about NaviStone, visit www.navistone.com
View the on-demand version of the interview here.