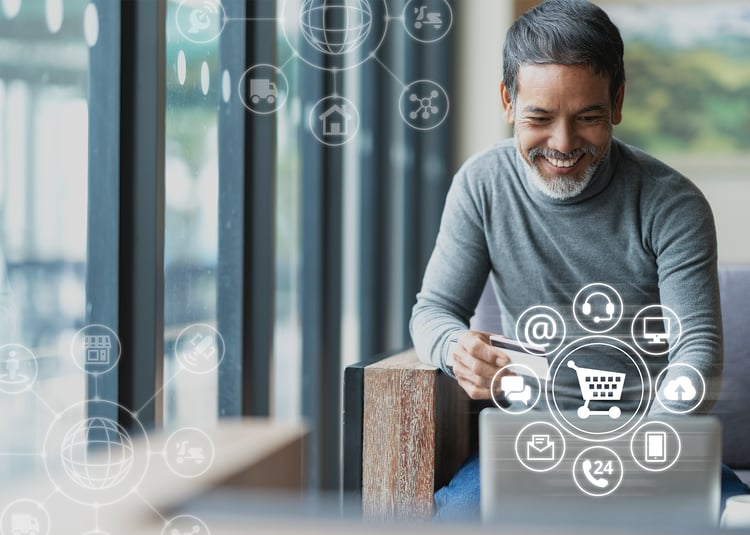 Most modern business is built around peak seasons, but consumers aren't only buying during your peak season. They are buyers all year round. Take a look at how modern CRM strategies are focusing on how to make the most of first party intent data to optimize customer acquisition and reactivation strategies in every season.
Develop Effective Marketing Strategies that Last All Year
All marketing plans should have an endgame. In this case, your ultimate goal is to optimize the profitability of your busiest season. Doing this requires a multifaceted approach that involves nurturing multiple segments of consumers in a variety of ways.
For those "lapsed" customers who might only make a purchase once a year (if that), you'll want to send periodic updates about the latest developments in your industry and how your company is capitalizing on those changes.
Frequent shoppers might do well to receive programmatic postcards about items they've looked at recently, or they could receive an individualized catalog that is created to anticipate their needs. Let's say that last year John bought a new 4K TV, during the Holiday season. It's now June, and John is looking at audio systems, soundbars, and wireless speakers. An individualized catalog sent to John in October or November with audio systems, upgrades and other affinity categories — like gaming systems, comfy pajamas, or even snack foods — could be exactly what John needs to make his decision to buy easier. This person's intent data in the off season has clearly shown how you can earn his business when it is your peak season.
People without strong ties to your brand could receive a promo code that will persuade them to choose your site over a competitor, where you can work to build a customer experience that makes it easier to come back to your business again and again.
The situations will undoubtedly vary in your industry, and they may even change from day to day. What's important is that you're knowledgeable about the lifestyles and stages of your customers, and that you're ready to meet them at their level, wherever that might be. By listening to intent data and preparing well in advance of your busy season, you'll be able to provide the right touch at the right time.
Cross-Channel Marketing
The same person might visit a store, sign up for your email list, browse your site and read your product reviews. However, if you aren't set up to recognize these different touchpoints as being from the same consumer, you'll never be able to piece together the different ways in which this individual wishes to communicate with your company. That's a major problem in this modern climate, in which consumers expect companies to have the ability to connect these dots automatically.
A cross-channel approach isn't just a good idea, it's a virtual necessity in today's era of fragmentation. If you're not equipped to monitor and analyze all your different touchpoints under one unique identifier per customer, you'll miss out on some vital intent data that can show you how to properly market to that person on an individual level.
Of course, there's more to cross-channel marketing than gathering data. This approach allows you to truly tailor your marketing to the preferences of each individual customer. Cross-channel does not mean being in every channel, but being in the channels your consumers are using. In turn, those customers can have confidence they'll get a great experience no matter how they interact with your business, making them even more likely to support your brand and recommend you to others.
Data Integration
Collecting consumer data is only an effective exercise if you put that data to good use. Data gathering for the sake of data gathering only serves to alienate customers who are already wary of their digital footprints. But if you use data to create something totally unique that provides value to your audience, you'll reap the rewards.
When you let data tell the story, you allow yourself to map out the typical path to purchase for all of your audience segments. This shows how people typically find out about you, reach out to you, learn about new products and eventually make a purchase. This information is not insignificant. The more you know about how your audience behaves, the better you'll be able to serve them — not just during your busy season, but at any point during the year.
Once you have these building blocks in place, you're ready to really make things happen. Every piece of data you bring in furthers this path to purchase, refining what already works and building new templates for new audience segments. It's the only true way to gain a comprehensive understanding of your customer base — and again, if you're not letting data drive this understanding, you can't ever hope to speak the language of the customer.
To get the full story on how to optimize your marketing strategies with first party intent data, check our e-Book by clicking on the image below!