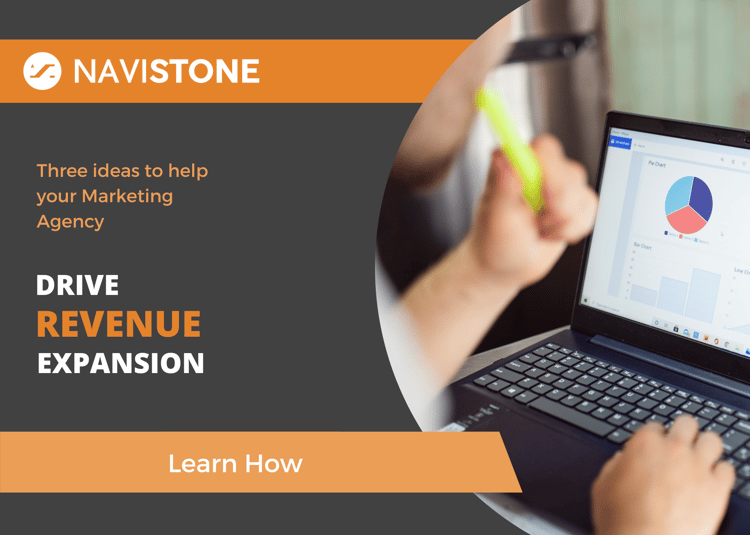 If your agency has an expansion mindset, here then are three suggestions to help in its evaluation for new business growth strategies that lead to driving revenue expansion.
Three Ideas to Help Marketing Agencies Drive Revenue Expansion
Last quarter I wrote about why marketing agencies should look to transform their clients' digital retargeting strategies by leveraging a more effective and powerful remarketing conversion solution. This quarter I would like to focus on how marketing agencies can evaluate and assess revenue expansion through the various marketing service opportunities in the marketplace today.
At some point in a marketing agency's life the "status-quo" vs "expansion" conversation surfaces and many begin the process of looking at what resonates most for their business. With such a wide selection of marketing service offerings from web design to marketing automation, to email and social, and SEO to content, it is a full-sized task to figure out where to begin.
If your agency has an expansion mindset, here then are three suggestions to help in its evaluation for new business growth strategies that lead to driving revenue expansion.
Audit Your Customer Base
Audit your customer base and determine what common or repeatable service areas are missing. For example, maybe you have several law firm clients but none of them are tracking their inbound lead attribution or perhaps some are currently not using email marketing to provide timely advice on how new local and state laws effect their clients. For the former, you can consider call tracking companies like CallRail who will help take the guess work out of knowing which marketing tactics are working most effectively. For the latter, Constant Contact is a popular solution that can handle their email marketing.


Verticalize
Do you have a lot of clients in the same industry such as hospitality or home services? Maybe you have a half dozen restaurant clients or pool service contractors that are struggling with too many disparate marketing tools? For the former you could offer a complete end-to-end restaurant platform solution like BentoBox and for the latter, Thryv is a terrific alternative for the pool contractor who struggles with their day-to-day tasks just returning calls and setting up appointments with their homeowner prospects.


Add a Complimentary Service
If you have most of your clients on the same marketing service platform, adding a complimentary tool can make a lot of sense. For example, are your clients compliant with WCAG & ADA requirements? If not, have you considered adding on a web accessibility solution such as accessiBe so your clients can meet compliance requirements and reduce their liability?
In all of the listed examples above – each service provider offers marketing agencies a unique and dedicated agency program that can provide you with an opportunity to drive additional revenues for your firm either through revenue share, service fees or a combination of the two.
As you examine these revenue expansion possibilities be sure that they are a fit with your go to market strategy. If your focus is B:C, bringing on a new marketing service that focuses on B:B may be more difficult to fit in rather than a marketing service that is aligned with your current clients.
Finally, if you haven't already joined the NaviStone agency partner program please reach out to me. I would appreciate the opportunity to share with you how marketing agencies are leveraging the only SaaS enabled platform to reinvent digital remarketing leveraging the most effective and powerful conversion solution with an industry leading 100% open rate!
I can be best reached at: partnerships@navistone.com