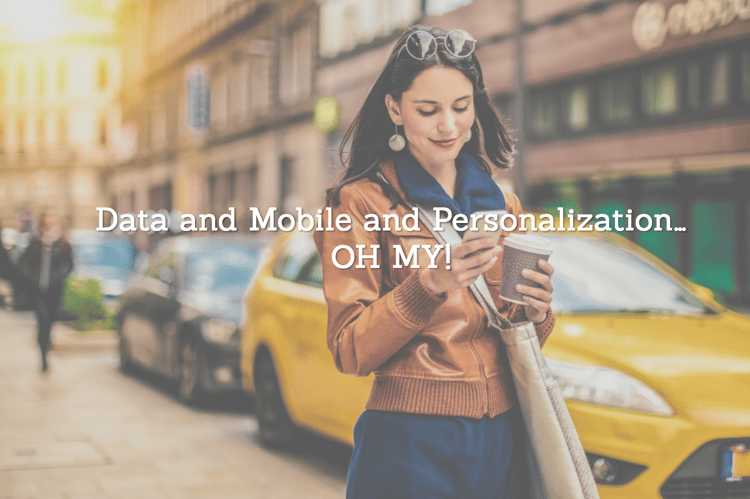 Coming off the heels of a jam-packed event season, we wanted to give a quick rundown of the themes we are seeing, voices we are hearing and trends to pay attention to in the Marketing and e-Commerce world this year. Also, find out where we'll be next. We'd love to connect.
At the eTail West 2018 conference, which took place in Palm Springs from February 26-March 1, the main thread throughout the three-day event was the omni-channel experience. Couched within several areas that apply to omni-channel, including a Unified Commerce Strategy, Digital and Omni Success and the Future Tech, AI, Mobile and Immersive Media. Typical of the eTail West annual event, the content and attendees did not disappoint. Executives from brands like GAP, West Elm, JC Penney and Dell came together to voice their leadership on the ever-evolving topics that narrowed in on mobile, the shopper experience, cultural and digital transformation and attribution.
Key quotes heard at the event include:
"Brands still matter; stores aren't going away; digital and physical need to connect to unlock huge advantages" Noam Paransky, SVP Digital, GAP
"Bring a humanization element, but allow the customer to try things in a meaningful way. Seeing what works and doesn't and use data to see what is impactful." Luke Chatelain, VP of Innovation, West Elm
"Machine Learning is going to change the way we run business...you need to embrace it and learn how to make it part of your journey - Harsh Acharya, Head of Technology and Product for Dell
In March we packed up our snow boots and slipped on our gloves to attend the NEMOA Spring Summit in Boston. This event included three days of industry veterans and leaders from retail companies of all shapes and sizes lending their insights and networking. From the main stage to the breakout sessions, there was a clear theme of innovation and growth throughout the content of this event. Top disrupters from companies like Google, Boden, Mackenzie Childs and Oracle Data Cloud presented on the industry's biggest opportunities in data, personalization and relevance.
Key topics included:
In the opening session, Anastasia Kudrez, Lead Educator at Google, conveyed that consumer attention is not shrinking, but marketers do have to work harder to capture it. Second, that you're more likely to get someone's attention through online video versus TV, and lastly, that people still pay attention to ads, but only if they're relevant.
In a joint session, Paul Mandeville, Chief Product Officer of QuickPivot and Larry Shaw, Chief Marketing Officer of Mackenzie-Childs, discussed redefining the customer lifecycle into buckets of "Try, Like, Love and Advocate". They emphasized the importance of redefining audience segmentation, focusing on first-class channels and data partners and creating flexible teams.
This year's Shoptalk event took place in March at the Venetian in Las Vegas. Always a bustling event with almost double the attendees they had last year, this event was bursting with information and thought leadership. See below for our breakdown of key themes at the event.
Mobile, mobile, mobile – More and more browsers are on mobile with 87% of that time in app. Brands are taking all precautions to ensure that the mobile apps are working with in-store inventory, which offers convenience and allows for pick up in-store or ship to address. It's become more clear that the mobile app is an important convenience all brands should consider. For example, Macy's will roll out Mobile Checkout by the end of the year to all their stores. This will enable consumers to scan their items they want to buy, pay through the app and then take it to counter to be bagged and have the tags removed. Talk about convenience! This makes the mobile device a critical component of the shopping experience.
Embrace Social – It's been shown that the best customers are becoming the biggest advocate for a brand through the ease of social media they are able to influence immediately. Brands are embracing the influencers. The newer Direct to Consumer brands are embracing the influencers with the older brands not far behind! The Direct to Consumer new brands are doing a great job leveraging this today!
Get personal - Consumers expect a personalized experience. Whether online, in store or anyway the conversation happens. Loyalty programs can absolutely help a brand obtain data for the personalized interactions. AI will also come into play to help with personalization. Mary Dillon, CEO of Ulta Beauty painted a perfect picture on the evolution of personalization in retail. It resonates. Pre-Industrial Revolution Times – everything was customized. You wanted a hat, it was measured and made for you. Post-Industrial Times – you want a hat, go pick up one off the rack as this was the era of mass production. Same message to the masses. Today – consumers want to design the hat, they want the brand to think of them as the most important purchaser of that hat. They want to be unique and they want to Brand to understand them. Interactions need to be personal. The consumer wants to share the hat on social media so others will want to purchase such a hat.
Customer experience and convenience – This topic will and should never be put to rest. Brands should always be re-thinking and evolving the experience of the customer. More and more the customer is after the convenience of the experience more than anything else. Monthly subscription clubs and bulk buying Retailers are doing so well. Why? Convenience. This is also why we will see the Amazon Go concept in more and more stores.
"Start with the customer and work backward. Customer trust is important for them to open their wallets with you. The need to provide a relevant experience for the customer and starting with the customer in the center and investing along that journey." Billy May – CEO Sur La Table
Let's connect! NaviStone is on the road and we'd love to meet with you at the following events.
Digital Travel Summit: April 30-May 02 at Green Valley Ranch, Las Vegas, NV. Join Angie Arnspiger during the Innovation Exchange Roundtables on April 30th at 1:10pm.
The 2018 Catalog and Integrated Marketing Summit: May 2-4 at Westin River North, Chicago. Don't miss Larry Kavanagh, CEO of NaviStone, speak on May 2nd at 2:15pm. *This event is free for retailers!*
Data Strategy Forum: May 2nd at The City Club of Washington DC. Come hear Allen Abbott, COO of NaviStone, discuss "Turning Web Traffic into Direct Mail Conversations" at 3:30pm.
IRCE: June 5-8 at McCormick Place West, Chicago. The NaviStone team will be in attendance and would love to connect!
CRMC: June 6-8 at Hilton Chicago. Come visit us at the NaviStone booth.