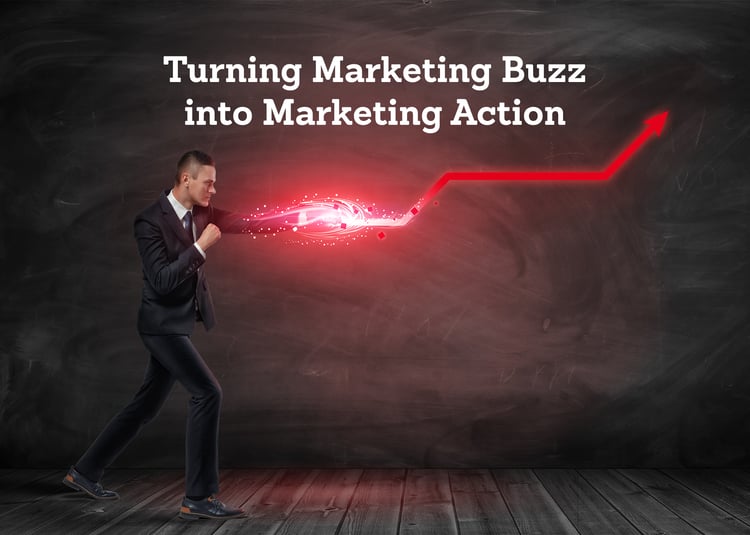 As we wrap up another busy event season, we want to give a quick rundown of the themes we are seeing, voices we are hearing and trends to pay attention to in the Marketing and e-Commerce world. Read on to learn what's buzz-worthy and actionable in marketing today.

In September, NaviStone attended the NEMOA Fall 2018 Summit event in Illinois. It included three days of educational sessions and opportunities to learn best practices from catalog industry veterans and cutting-edge leaders. A key highlight from the event included a presentation by home furnishings retailer, Design Toscano, introducing the results they're seeing by using web-powered direct mail. The NEMOA audience, packed full of smart marketers, walked away with the keys to triggered direct mail success. Some of the highlights of the session included:
The emotional effect that is at the root of effective direct mail.
Direct mail response rates are 10-30x higher than digital.
Web-powered direct mail is the next step in the evolution of marketing
Design Toscano is seeing better engagement from web visitors after sending them individualized postcards based on browsing behavior.
"We saw excellent results from a web-powered postcard we did through NaviStone. It's the first time we've been able to be in the mail within 48 hours of a customer browsing our site." —Stephanie Stopka, Design Toscano
---
At the Total Retail Tech conference, which took place in Dallas from September 18-20, there was no mistaking the main objective around propelling retailers' technology strategies forward. This event did not disappoint. From the content, to the networking, to the thought leaders- we love this event!
Marketing and technology greats from brands like IBM, Neiman Marcus and Title Nine shared their perspectives on technology and data. Specifically, on how the combination of these critical pillars within marketing enable us to understand, reason, learn and communicate. Another key message throughout the two-day conversation focused on "embracing the blur". At NaviStone, we couldn't agree more. Marketers have to break down the silos that exist within their business and when they do, that's when they can truly gain the single view of all customers and create a meaningful human experience.
Some key quotes we heard at the event include:
"Data is outpacing our ability to use it." – Melissa Tatoris, Strategic Retail Executive, IBM
"Personalization is the new loyalty. The impact we got from loyalty programs, is the same impact we will get now with personalization." - Steve Dennis, Founder & President - SageBerry Consulting
"Digital isn't always better. Sometimes people do want a more face-to-face, human experience."- Steve Dennis, Founder & President – SageBerry Consulting
---
Late September, we packed up our sunscreen and headed down to San Diego for the 2018 eTail Connect West event. This event included two days of insights on the industry's biggest opportunities from industry leaders, like Spanx, REI, Luxottica and GameStop. From the main stage to the breakout sessions, there was a clear theme of AI & machine learning, personalization and the customer journey.
Key topics included:
In a keynote session on day 2, Sterling Hawkins revved up the crowd with his presentation on embracing innovation with disruptive technologies such as AR, VR, AI, Automation, IOT, Robots and Drones. Describing a world in our not-so-distant-future where refrigerators will text shopping lists and drones will deliver milk!
Honing in on the importance of data-driven personalization, Jim Edgett, Head of Digital Ecosystems & Channels at GameStop, enlightened the crowd on identifying customers and tracking them across device, personalization beyond product recommendation and how content can build relationships.
Combining some of NaviStone's favorite topics, Melissa Tatoris, VP of Retail Engagement of IBM Watson Customer Engagement, discussed how marketers can quickly act on customer behavior seamlessly to create real-time, personalized, data-driven experiences at every touchpoint with augmented intelligence.
---
NaviStone was delighted to be at this year's Argyle Leadership in Digital Marketing Forum in New York on October 10th. This select group of digital marketing executives came together to share insights on the most pressing issues in digital marketing today. Some topics included the evolution of digital and how its transformed not only the role of a marketing leader, but the whole organization. Other key points of discussion were data and the rise of automation and emerging technologies to create more meaningful experiences across channels. Those are topics we can get behind!
Some highlights of the event included:
On the topic of "Keeping Brand Consistency" and the importance of personalization, Marcelo Galdieri, SVP, Marketing & Brand Operations at National Geographic said, "Marketers need to shift from a monologue to their consumers to a dialogue."
Tessa Barron, Senior Director, Brand and Communications from ON24 discussed the significance of digital body language and how it is time marketers "Create engaging experiences for our customers and prospects that go beyond the superficial click and form a more human connection."
A clear highlight to the day was a breakout session on "Evolving from Buzzwords to Action." Small groups broke out and considered the top 5 buzz words they hear about most in marketing and discussed that in many ways, these buzz words have become meaningless. Take, for example, the buzz word "personalization". it is commonly misused because what marketers really mean to say is individualization!
What buzz word do you think has potential of coming to life and evolving into action, or fizzling out?