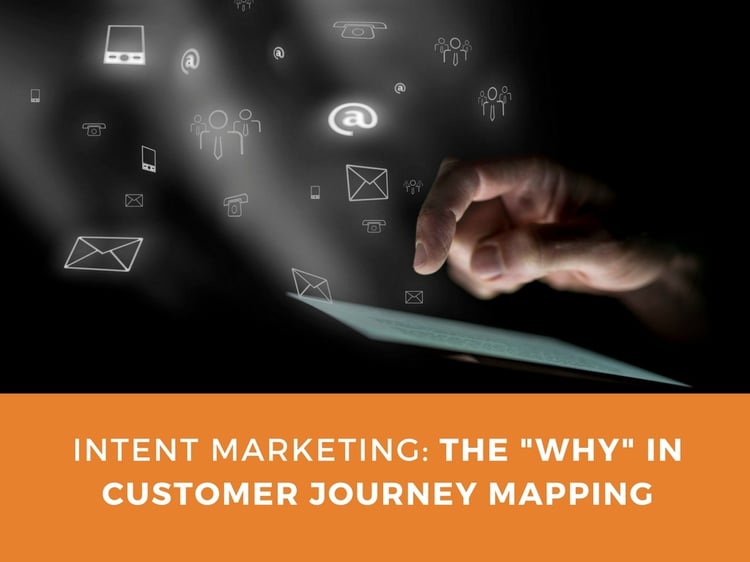 In most circumstances, any engagement between a consumer and your business is considered to be good — at least for your organization. But does your audience feel that way? As a consumer yourself, don't you get a bit tired of seeing the same digital ads pop up over and over while you're browsing the internet? As Larry pointed out in our last 2 Guys and Some Data podcast, "...as marketers, we have to get smarter, or at least more relevant, with our use of web behavior...just haunting somebody with the same ad over site after site after site has got to have a bad effect." And that's why you must understand not only "how" and "when" an individual engages with your brand, but also "why." When you understand "why," you'll be able to individualize each point of contact with your consumers to provide the best value to them when they are most ready for it.
The Heart of the Customer Journey
Today's consumer has many different ways of gathering the information they need to make an informed decision before making a purchase. For example, a prospect may learn about a company via social media, then conduct product research on the Internet (both on the company website and on review-based sites), then seek out the product in-store for a hands-on trial — and then, after all that, they may make the purchase either online, in store, through mobile or other means.
As a result, the path to purchase — also known as the customer journey — has become an important topic for most businesses. It's important to understand how people move through this path so resources can be properly allocated to various programs. If in-store displays aren't making people as aware of the product as the company hoped, maybe it's time to overhaul the display methodology or move funding into more effective ways of attracting customers to the brand.
Download our eBook to learn how to leverage your website visitors browsing behavior to deliver individualized next-gen marketing.
But it's not enough to simply know "how," "when" and "where" customers are engaging. It's even more important to understand why consumers behave the way they do. Why is this individual motivated to act in this moment? As a marketing leader within your company, you should be able to answer this question — and you should have the appropriate data to support your response.
It's only through mapping this customer journey that you can truly begin to understand the story of each person who interacts with your organization. Once you know this story well, you can weave it into your marketing planning. Consumers love to feel like they're understood by the businesses they patronize, and they're willing to share their love of the customer experience with others. Michael Hinshaw states in his article on CMO.com that companies that focus on the customer journey see an increase in positive mentions on social media of nearly 25 percent.
This emphasis on the customer's path to purchase has implications for your bottom line as well. Companies that place a priority on the customer journey see a 50 percent greater return on their marketing investment than companies that don't.
Individualization Starts in the Moment
Life is full of small moments that influence us in big ways. A smiling face at the coffee shop in the morning can be the start of a great day; or an email from your favorite store offering you a 25 percent customer loyalty discount might trigger a purchase that you may have not otherwise made.. It's those little things that people do to delight us that really stand out, and that's why the customer journey is so important. Without a full understanding of the points at which you can influence your customers, it's impossible to truly optimize the customer experience.
The true sign of success in marketing is when you can successfully anticipate an individual's needs and wants so you will be ready when they are. This gives you the ability to guide them along their path, exceeding their expectations at every step of the journey. Carrying out this vision takes careful planning; it also means businesses must have the agility necessary to change with the times.
Individualization is a great way to show potential customers that you understand them. Communications that show empathy with the customer's pain points, as well as a solution that resolves those issues, do a lot to build the level of trust that those consumers place in your business. But it's the individualized touch that really drives the point home. Since everyone is at their own place in the customer journey, each individual person needs their own communications that speak to them at their own level. If you can provide that, you'll build customer loyalty and brand advocates.
When you can clearly communicate the answer to a question before that person has even thought to ask it — and when you're answering the right question at the right time — you've found the perfect mix of knowledge and individualization. It's these moments that build trust and convince consumers that they're making the right choice when they purchase from you. These moments will live long after these individuals have used your products and services multiple times.
Intent Marketing without Channel Boundaries
A vital part of individualization in the customer journey is selecting the right medium for your message. The key to intent driven marketing is not only looking in the right areas for customer data, but also looking for clues that consumers leave which might not be obvious. According to a study by Millward Brown, companies miss as many as 70 percent of customers on mobile devices because they're unable to pick up on the intent data left behind by those consumers. Intent data shows indications that an individual is ready to make a purchase in the very near future, and if there was ever a ripe target for individualized marketing, it's someone who's about to buy.
The good news is that modern technology gives you the opportunity to distribute your messages quickly and easily. This means you have the flexibility to reach out to prospective consumers at just the right time. It also means you can take advantage of a variety of communication methods.
More and more companies are prioritizing new digital methods of communication with consumers, such as text message marketing and mobile apps with push notifications. You can use technology to communicate with your customers in this way, or you can use the tools at your disposal to do something completely different. Using the data you've acquired through tracking the customer journey, you can send automated postcards to encourage people who have expressed interest by visiting your website or shown other signs of purchase intent. This approach would give you the immediacy necessary to capitalize on intent data with the high response rate of direct mail.
No matter the medium you use to communicate with your audience, it's important that you find the right way to meet consumers where they are on their customer journey. The use of different mediums for your messages can encourage recipients to continue down the funnel towards an eventual purchase.
Intent Marketing: Seeing the Person, Not Only the Consumer
Intent driven marketing relies heavily on data, flexibility and the use of technology to communicate quickly. Detailing the customer journey and understanding why people make the choices they make will help you to develop a more comprehensive profile of each person who interacts with your organization. This also allows you to create moments of trust because you will be creating a unique experience solely for them.