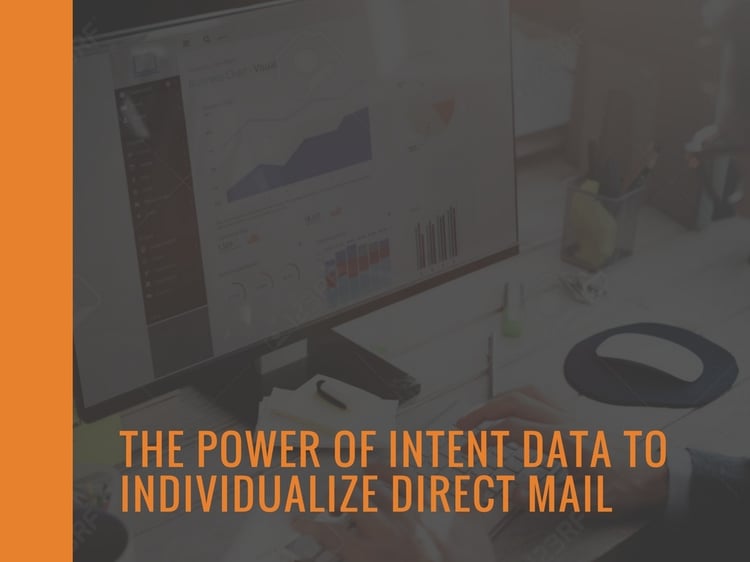 The numbers don't lie — the power of direct mail is undeniable. The 2015 Direct Marketing Association Response Rate report states that direct mail is six times more effective than all forms of digital marketing combined. However, to achieve the maximum efficiency with your next direct mail campaign, you need to not only choose the right targets for your mailers, but you also have to individualize the content and messaging based on their needs and desires — in the moment. Individualization is based on a person's current interests, not on their past behavior. The good news is that there's a natural way to link an individual's preferences with the direct mail they receive. And the best part is that this information is gathered from your own company's website.
Why Answering "Why" Matters in Direct Mail
While there's no disputing the numbers behind direct mail's effectiveness, the fact remains that intelligent circulation strategy is a vital part of any direct mail initiative. You have to reach the right people at the right time with the right message. Additionally, with the advent of programmatic postcard technology, it's possible to create direct mail pieces in the spirit of triggered email, expanding your reach with a very high-response medium.
But it's not enough to implement triggered responses to specific activities. Real individualization starts by answering "why:" Why are prospects motivated to make a purchase from your company? And we're not talking about surface answers like "We were having a good sale." The answers should always reveal something about your consumers. Maybe they've recently purchased a house and are now looking to upgrade the kitchen. Or they've had a baby, or moved to a new neighborhood, or started college or have their first real job after college. When you answer the "why," you can deliver an individualized marketing message that provides the real value your prospect is looking for. And to gain those insights, you start with Intent data.
The Powerful Combination of Intent, Demographic and Transactional Data
The value of readily available data from previous transactions and demographic information is well-documented. But intent data has the power to totally transform the way you view customers on the path to purchase, alerting you to consumers who are most likely to make a purchase soon. These customers need your immediate attention, and they need a well-executed, individualized mailer that keeps them moving towards an imminent purchase. Every piece of direct mail sent — catalogs, postcards, self-mailers, dimensional mailers, letters and more — should help build a unique experience between your brand and your prospect and/or customer.
As discussed, incorporating the "why" into the execution of your direct mail program is of vital importance. Intent data can help you to fill in the blanks left by demographic and transactional data. In addition to knowing why a consumer is engaging with your organization on your website, intent data will help you to understand when that mailer should be sent and how your message should be presented in order to meet the specific needs of each unique prospect and customer.
The clues that signify intent may vary among industries, companies and age groups. However, there are some clear-cut consumer purchase signals on your website that are noteworthy in any situation. Activities such as adding items to a cart (without actually checking out), seeking out your "Contact Us" page and making repeat visits to the page of a specific item are all indicative of serious interest in your company. By combining intent data with the knowledge you gain from demographic and transactional data, you can create a hyper-personalized direct mail marketing piece for your audience.
How to Shake Up Your Direct Mail Programs
Incorporating intent data into your demographic and transaction-based data mining allows you to not only understand who's buying your products, but when they're buying them and what directly motivates them to purchase. As a direct mail practitioner, this gives you the opportunity to execute a truly individualized marketing strategy, one that reaches people on a personal level and shows them exactly why they should make a purchase from your company.
This personal approach is well worth your while. It draws people in, and it shows them that your company understands their desires and pain points. In today's world, this is an extremely important factor in the customer experience, particularly among a younger audience that's willing to pay more for an extraordinary experience with a company that they feel a connection with. The numbers bear this out; an InfoTrends study from 2016 states that people are 55 percent more likely to open a direct mail piece if it's personalized to appeal directly to the recipient. As individualized marketing continues to increase in popularity, the ability to quickly individualize direct marketing materials will become even more important.
Individualization, though, goes far beyond merely including the recipient's name in the subject line of a direct mail letter. Individualization requires a new approach. Consider the case of a couple buying their first home who are in the market for gardening and landscaping supplies, which your company sells. You already know they're moving because you've been notified that their address is changing, and that's already a great reason to send direct mail to this family. However, they've also visited your site and looked at four pages of ornamental trees. With this data, you can begin to create a story about this couple and what they want and need at this point in their path to purchase. They want to make their first house a home, and they want to live there and watch the trees they planted grow. Your marketing messages to them should help them achieve their goals.
Instead of issuing a generic "Welcome to the neighborhood!" postcard, you can send an individualized piece that showcases Plant Hardiness Zones and a short list of trees that grow well in their location based on their current interest in ornamental trees. Intent data also gives you the ability to tailor your pre-existing catalog program to send individualized catalogs. For instance, you can send a smaller catalog that features ornamental trees and shrubs and landscape design tips for how to plan flowerbeds around trees and yard shape. Or, you can mail your standard catalog with an individualized outer wrap. This lets them know that not only do you have what they want, but that you also sell other items that they may be interested in. It's a nice touch that goes a lot further than sending a generic catalog in which the items of interest are buried somewhere in the middle.
This is just one example of how you can use the intersection of intent data and your existing transactional and demographic data to really wow your audience. It doesn't necessitate a complete overhaul of your entire direct mail operation. All you need is an open mind and a willingness to tweak what you're already doing. Thanks to modern technology, it's easier than ever to personalize your direct mail based on intent data, and the possibilities for leveraging this medium are virtually limitless.
The higher cost of direct mail means that the use of data to identify the best recipients of a given direct mail piece is a virtual requirement. Incorporating intent data into the mix makes sense from an ROI perspective, but it's also a proactive customer service tool that enables you to zero in on your most valuable customers — those individuals that are ready to buy. Using an individualized marketing strategy for each of these individuals not only makes them more likely to buy, but it will also enhance the customer experience, increasing the chances of them making additional purchases in the future.