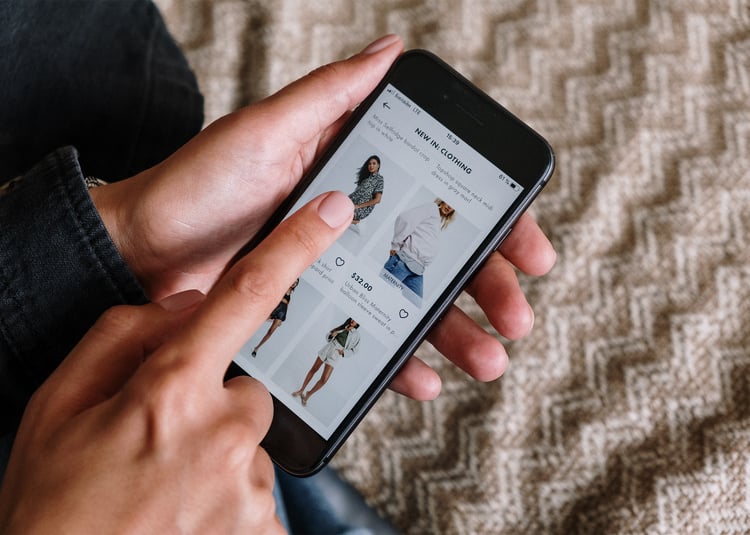 As we pass the halfway check point of the year, for marketers, the momentum is just beginning. In a blink, the holiday season will be here. And, we all know 2020 was unprecedented, but enough about that. Let's focus on the big shifts that we have seen so far in 2021.
Marketing in 2021: The Big Shifts
There have been a lot of changes over the past year and a half – some COVID related others not – that are having or going to have a significant impact on how we market to consumers. Below are some of the changes we have seen over the past year with regard to consumer behavior and marketing trends.
Acceleration of eCommerce
There is no question that 2020 caused the industry to accelerate much faster than planned due to the pandemic and the need to buy online. Consumers moved 100% online for portions of the year forcing brands to be more "online enabled" and quickly invest in mobile and other online commerce functionality. The consumer behaviors are not going to shift all the way back to where they were as the world opens back up. Online commerce and accelerated use of mobile are here to stay (It just happened quicker than expected).
In a recent study conducted by NaviStone to our network of marketers posing the question of "What are the top three challenges you are concerned about in 2021 and into 2022?", the top two answers included customer acquisition and retention and we suspect – it always will be. But aside from that, two of the biggest challenges we're seeing marketers work through is this acceleration in eCommerce and the future deprecation of the third-party cookie.
When thinking about customer retention in 2021, marketers first have to ask themselves if the customers they acquired during COVID will continue to buy from them and "act" like consumers they've acquired in non-COVID times. Or, will different strategies be needed to keep them engaged and retain them as customers, if in fact, they even want to retain them. These customers may be dramatically different.
Consumers are browsing and buying online more. And, even as covid restrictions loosen and we see traditional brick and mortar re-opening, we don't expect to see retail activity at the same level it was.
Nor do we expect to see the retail experience look the same. Retailers will have to provide more of a reason, or an experience, to keep consumers coming into the stores because many consumers, even the Baby Boomers, are now more comfortable shopping online. They will need something more to move them back to traditional retail.
eCommerce has accelerated to rates not expected to be seen until 2025. The U.S. department of Commerce reported that while retail sales increased 6.9% from 2019 to 2020, eCommerce sales increased 44% as more and more consumers are getting comfortable, not only browsing, but transacting online.
Because NaviStone is uniquely positioned to aggregate traffic data, we've been able to see how direct-to-consumer website traffic has changed as a result of COVID.
Here you can see site traffic in the apparel industry, one the hardest hit industries, and how the first 5 months of 2019 compare to 2020 and now the post pandemic period of 2021.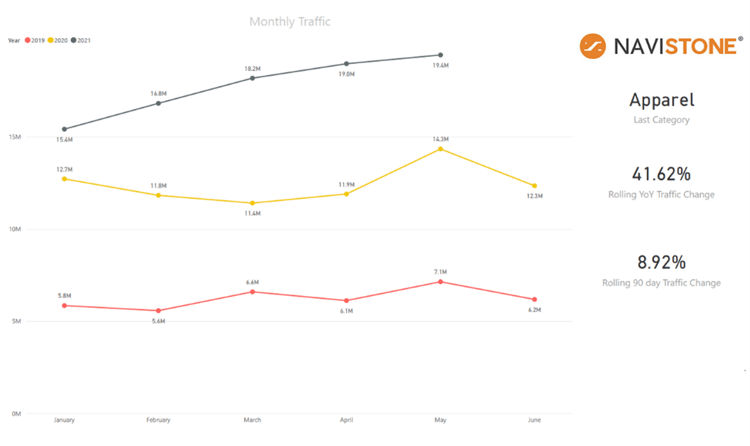 In 2020, we start to see the changes in traffic as the pandemic hits. First a decline, then an uptick as people are stuck at home and browsing more but then, as there is nowhere to wear new clothes, traffic and purchasing drops off and continues to drop for the balance of the year.
As we come out of the pandemic, we can see the traffic data supporting the fact that the #1 place consumers are spending their "savings" is on apparel as they purged their closets during lockdown and are ready to get out now but haven't got a thing to wear!
(As an aside, if you are interested in seeing this data for your particular industry, contact us!)
So, while eCommerce growth isn't a bad thing, what makes it challenging is the fact that technology hasn't accelerated enough yet to support it.
Future Deprecation of the Third-Party Cookie
And that does bring us to the next shift.
Not related to COVID, but the second shift we see, is around the industry's support of third-party cookies.
And this is particularly problematic because of the acceleration of ecommerce. Consumers are rounding out their usage online across multiple devices. This is where third-party cookies really provide a great service to consumers…in piecing together that disparate data and enabling personalized marketing online.
So, while eCommerce is accelerating, our ability to support and track this accelerated online activity is hindered.
Google has taken steps to stop supporting third-party cookies by 2023. The impact this will have on marketers and consumers is game changing.
Some see Google's position as self-serving. Today, the impact feels very disruptive and threatening and upsetting to marketers. That may be a fear of the unknown because they are not in control of whatever comes next. We are not sure we really know yet how it will impact marketers and consumers pragmatically. One way to think about potential impact for marketers is that there will be some disintermediation of digital advertising providers (benefiting Google) and/or re-allocation of that marketing spend relative to today's digital ad allocation.
We have to remember that Google is not the first one to be forcing the industry to move off of third-party cookies. Other browsers like Safari have been moving in this direction for some time. And, CTV and OTT devices have also been moving in this direction as well. However, because of Google's size, and potential impact to digital advertising spend, the industry can no longer avoid this mandate and providers are taking notice and the industry is working to address it.
Is this solution going to set us back to a series of walled garden environments that make it very challenging for the marketer to have a cohesive, omni-channel conversation with the consumer? And that isn't just bad for the marketer, it's bad for the consumer too.
It's been a long evolution to get us to where we are today. How will omnichannel marketing be impacted?
Think about the time when marketing was limited to a single channel. Whether that was marketing via print or email, or through the open web or social media. You marketed through that channel and you measured response – where you could – in that channel.
We've seen that evolve to multi-channel and true omnichannel marketing…in large part enabled by the third-party cookie and the ability it provides to integrate offer and order channel and give that personalized experience to consumers. If someone receives an ad from a retailer via Facebook and then purchases, you knew what drove that transaction. If that consumer received an email and an ad on social media and then transacted, you know that too.
Without the ability to connect all of that data to the same consumer, will we find ourselves moving backwards….going back to an environment where we can't integrate across channels?
The first party cookie allows the advertiser to understand the consumers activity with their brand. But, it is the third-party cookie that allows the advertiser to provide a better consumer experience by understanding cross-site and cross-channel activity. Advertisers will lose that. And one of the most important marketing programs of the 2000s - digital retargeting – is going to be hit especially hard.
Stay tuned for the second part of this three-part series which will dive into the components of retargeting and the impact the deprecation of third-party cookies will have on this marketing strategy.