Get the scoop on what's new at NaviStone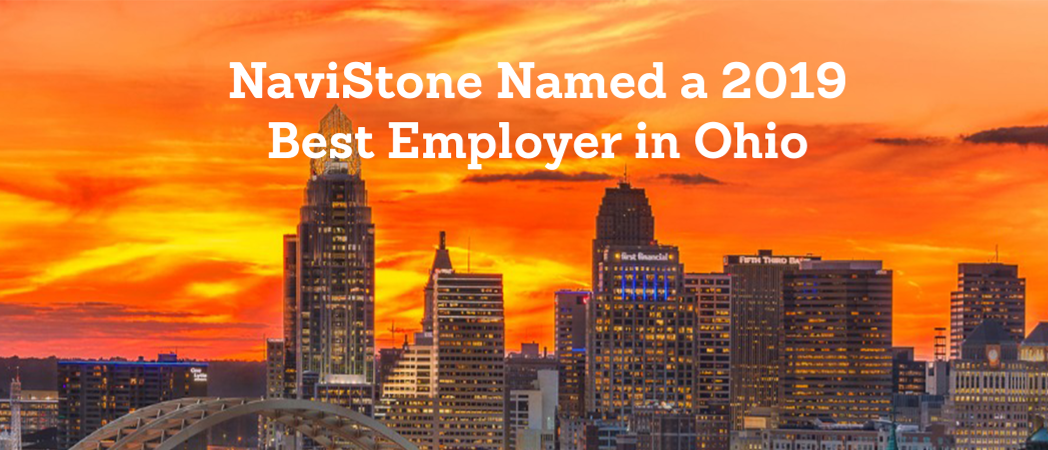 NaviStone Named a 2019 Best Employer in Ohio
NaviStone was honored to be named among the 2019 Best Employers in Ohio by the Ohio SHRM State Council, Crain's Cleveland Business, and Best Companies Group. This statewide survey and awards program is designed to identify, recognize and honor the best places of employment in Ohio, benefiting the state's economy, its workforce and businesses.
"Creating an environment of transparency, innovation and growth for our employees has been key to our success at NaviStone. Companies do not win awards without a great team delivering award-winning results. Our team achieves this by bringing their passion and hard work to our business each day," says Larry Kavanagh, CEO of NaviStone. "It's an honor to receive this award two years in a row and is a great testament to the commitment we have made to our employees and clients."
NaviStone was awarded the Best Employers in Ohio award in 2018. Additionally, NaviStone has been recognized by the Cincinnati Business Courier's Innovation & Technology Awards Program for two years in a row, taking home an award in the Marketing Innovation category in 2018.
"We are honored to receive this recognition and applaud all of the Ohio-based companies who are helping to keep our state's economy thriving," says Kavanagh.
Want to keep up on all things related to Marketing Innovation? Follow our blog www.navistone.com/blog.
---
Client Shout Out! This past April, leading direct marketers across industries gathered together at the CohereOne Catalog & Integrated Marketing Summit in Philadelphia. As part of a presentation given by Free People, an American bohemian apparel and lifestyle retail company, we were pleased to hear them tip their hat to the NaviStone Solution.

---
The Loyalty Shift: How Acquisition Plays a Part in Loyalty Programs
It's no surprise that loyalty programs are running stronger than ever. With the rise in AI, data and personalization, why shouldn't these advances be used to improve the experience businesses provide to their most dedicated customers? Although, marketers see endless opportunity in these programs, this push for better and more robust experiences is ultimately coming from the customers themselves.
In fact, about 50% of loyal customers have left a company for a competitor who was able to stay more relevant and better satisfy their needs. (InMoment) Additionally, 88% of U.S. consumers want to engage with brands that are setting new standards in meeting their expectations, according to Wunderman. 56% said they feel more loyal to brands who "get me" and show a deep understanding of their priorities and preferences.
While loyalty programs are great for incentivizing your active customers, there is also a tremendous opportunity to shift the focus from pure retention to acquiring more loyalty members. Let's not forget about bringing a new universe of these high-purchasing customers into your program. By using web-powered direct mail programs, marketers from retail, financial services, travel & hospitality and more are able to transform their website visitors into loyal customers by reaching out with a personalized, printed piece within 48 hours of their site visit. This high-touch, personalized and relevant touchpoint offers consumers just the nudge they need to join your program and a great start to a long-lasting relationship.
Interested in learning more? Contact us at https://www.navistone.com/contact-us.
---
Movers & Shakers: NaviStone Team Updates
Welcome to the Team: NaviStone is pleased to introduce you to our newest team member, John Keller! John joins the team as a Finance & Accounting Senior Analyst. He has worked with NaviStone in a contract capacity for nearly a year and has proved to be a tremendous asset to the team as he has continued to optimize and increase the efficiency of the finance department. We are excited to officially welcome him onto the team!
NaviStone on the Run: Our team is proud to have participated in two great races this spring in both Cincinnati and Denver. The Flying Pig Relay took place on May 4th in downtown Cincinnati and those on the team who didn't run the relay were there to cheer them on in orange.
And a little further West, our Denver crew gathered for the Denver Colfax 5k race on May 18th in the heart of the city. Now in its 15th year, the Colfax Marathon Partnership is a nonprofit with the mission of producing the premier marathon weekend in the Mountain West Region, committed to community, philanthropy, and fun. The NaviStone team ran on behalf of the Ray of Hope Foundation, an organization that helps meet the urgent needs of Coloradans with cancer.
Join our Team!: Are you passionate about data and how it's helping marketers drive outcomes? Are you committed to understanding your customer's needs and obsessed with solving their problems? At NaviStone, we are leading the industry in triggered direct mail technology. We add the power of intent to expand the scope and improve productivity of your direct mail programs. And now, we are expanding our team. If you are interested in joining a progressive team view our job openings at https://www.navistone.com/career.
Follow us on Twitter to see what our team is up to this summer! @Navi_Stone
---

Coming Soon to a City Near You
NaviStone is hitting the road this season and would love to meet up! We hope to see you at the following events.
Bridge Conference: July 10-12 in Maryland. The NaviStone team will be in attendance and we'd love to connect!
The Print Event: August 6-7 in Minneapolis. Planning to be there? Let's discuss all the latest in retargeting offline.
eTail West Connect 2019: September 16-18 in San Diego. NaviStone will be sponsoring and exhibiting at this event and we'd love to meet with you.
Total Retail Tech 2019: September 23-25 in Philadelphia. The NaviStone team is excited to be participating in this event. Let's meet up!
Total Retail Women in Retail

: November 7th in San Francisco. Let's connect.
Please reach out to schedule time with us!